Services
Our commitment is not confined to providing products at the best value but also in ensuring a professional and efficient experience to all our customers. Hence, the service quality is same from an individual buyer to any corporate, our sales and purchasing staff are most happy to help you track down just what you need.
CR / GP Cut to length
Cut-to Length Line
The Cut-to-Length line installed is one of its kind in India. Having a capacity of 5000 Tons of production with precision levelling of Sheets, length and diagoanl tollerance of 0.50 mm & 1.00 mm respectively.
Storage & Handling
We have a 20000 Sq. Ft. floor shop for storage and handling of Coils and processed materials. We have installed 2 Goliath Cranes 30 & 10 Tons for Loading & Unloading purpose. Natural Sunlight is ample to make the work enviornment a good place to work.
An efficient staff is deployed to take care of the day-to-day activities. An inventory management software had be installed which can generate reports on finger tips.
All Coils and Sheets are sorted on flooring made using VDF - Vaccum De-Watered Flooring technology.
Weight Scale
We have an inhouse facility for weighing sheets and coils which saves time.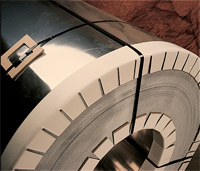 Packaging
Materials are packed according to customer specifications using various plastic sheets, card board materials and wooden pallets.
Strapping for all processed materials are done mandatorily.
The packing is of high quality to avoid any water seepage.
Logistics
We are proud to have our own fleet of trucks to accomodate in time supply of materials to our valued customers.